Staying Healthy Through the Holidays
'Tis the season for family, friends, fun, and food. Lots of food. The holidays come with their share of indulgence. Between work parties, get-togethers with friends, and family-filled celebrations, there are endless options for food. On top of the gatherings, holiday travel can easily disrupt eating routines.
Staying healthy through the holidays is about finding balance. With temptations around nearly every corner, engaging in healthy habits can help you stay on track.
One healthy habit to cultivate is being mindful of food choices. Holiday foods are often full of rich ingredients that provide little nutritional value. While we're not suggesting you skip the cookies altogether, consider adding some nourishing options to your plate. Great additions include vegetables, fruits, whole grains, beans, nuts, lean proteins, and dairy products.
While you may not always have control of the menu, there are simple ways to incorporate more whole food, plant-based meals into the holidays.
Need inspiration? Here are four festive recipes from the Premise Lifestyle Medicine team to support healthy eating habits!

A Seasonal Starter: Cranberry Salsa
Note: Most of the ingredients are roughly chopped because they will be going into the food processor. If you don't have a food processor, grate the ginger and finely chop or mince the cranberries, apple, jalapeño, green onions, and cilantro.
Prep time: 15 minutes
Yield: Makes a little over one cup of salsa
Ingredients
1½ cups of fresh or frozen cranberries
1½ – 2 apples, peeled, cored, roughly chopped
½ – 1 jalapeño, seeds removed and roughly chopped. Use more or less to taste, depending on how hot you would like your salsa to be
2-4 scallions, including light green parts (about 1/4 cup)
2 Tbsp. honey or more to taste
2 Tbsp. chopped fresh cilantro (some stems are ok)
1 tsp. finely minced ginger
1 Tbsp. lime or lemon juice
Dash of salt
Directions
Place all the ingredients in the bowl of a food processor. Pulse several times until everything is finely chopped and well blended.
Let the salsa sit for at least 15 minutes for the honey in the salsa to soften the chopped cranberries. Store chilled in an airtight container until ready to serve. Serve with chips or crackers.
On the Side: Asparagus with Balsamic Sautéed Shallots
Prep time: 15 minutes
Yield: 8 servings
Ingredients
Olive oil spray, optional
4 sliced shallots, or about 1 cup (substitute: red onion)
1/3 c. balsamic vinegar
¾ tsp. salt (plus additional salt as needed for cooking water)
¼ tsp. freshly ground black pepper
1 tsp. lemon zest
2 bunches of asparagus (or 1 ½ lbs. green beans washed + trimmed)
½ c. coarsely chopped roasted, unsalted hazelnuts
Directions
Heat a med-large non-stick sauté pan over med-high heat. Add shallots and sauté; do not stir for about 15 seconds until you begin to smell them cooking. Add a splash of water and stir often-about 4 minutes until they begin to turn golden brown. Add in small amounts of water as needed, to prevent burning. Once the shallots have browned, continue to cook – adding enough water as needed – until the shallots are very soft and wilted.
Add in vinegar and cook for a few more minutes so that the vinegar reduces.
Off of the heat, stir in salt, pepper, and lemon zest.
Cook asparagus (or beans) in boiling salted water 3 minutes or until crisp-tender; drain.
Place asparagus (or beans) in a large bowl. Stir in shallot mixture; toss well to coat.
Sprinkle with nuts and serve.

To make this dish ahead, plunge the green vegetable into ice water after boiling, drain and refrigerate up to a day ahead. Prepare and chill the shallot mixture up to 2 days ahead, keeping separate. To serve, place the beans and shallot mixture in a large microwave-safe bowl, cover, and microwave on high 2-3 minutes or until heated. Toss well before serving.
Indulge: Double Chocolate Chip Cookies
Prep time: 15 minutes
Yield: About 18 cookies
Ingredients
Wet Ingredients:
1 Tbsp. ground flax mixed with 3 Tbsp. water
¼ c. Earth Balance Buttery Spread
¼ c. cashew butter (or almond butter)
2/3 c. coconut palm sugar
1 tsp. vanilla extract
Dry Ingredients:
1 tsp. espresso powder
½ tsp. baking soda
½ tsp. baking powder
½ tsp. sea salt
3 Tbsp. cocoa powder
1 ½ rolled oats, processed into flour (or 1.5 cups oat flour)
1 c. dark chocolate dairy free chips, (or 1 chocolate bar, chopped)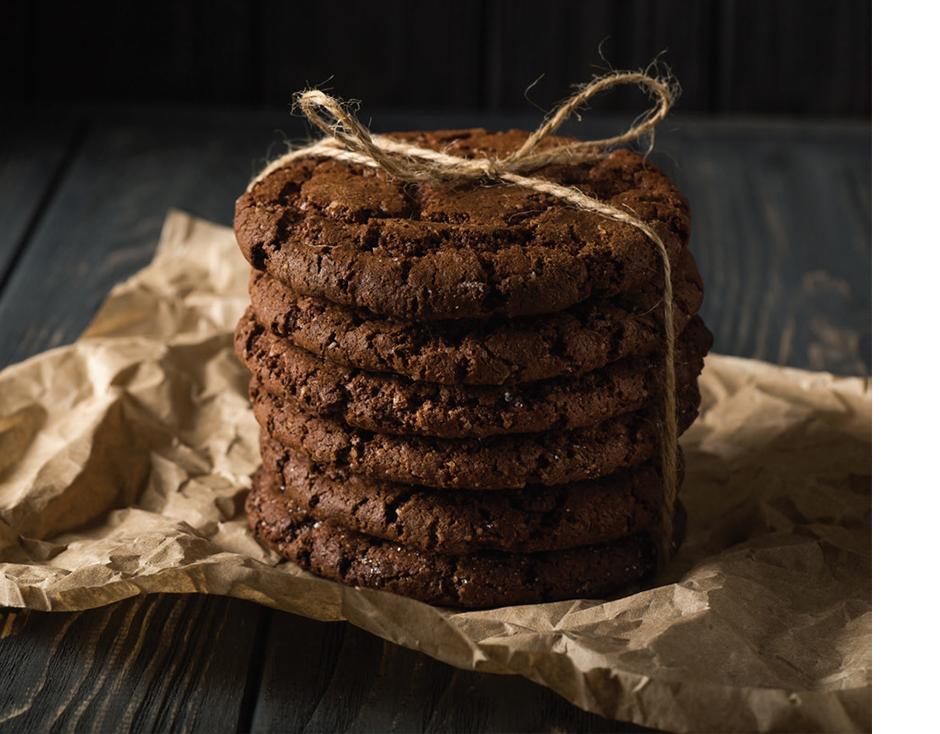 Directions
Preheat oven to 350˚ F. Line a baking pan with parchment paper. In a large mixing bowl, mix together the flax and water while setting aside for a few minutes so it can thicken up, and creates a "flax egg." Whisk the flax egg again once thickened.
Add/whisk in the rest of the wet ingredients into the flax egg.
Add in all the dry ingredients apart from the chocolate chips. Whisk to combine. Add a small amount of almond milk if the mixture is very dry. The dough should be moist enough to form balls without cracking.
Stir in the chocolate chips.
Scoop/shape balls of dough (about the size of a golf ball or 2 heaping tablespoons) and place on the baking sheet 2-3 inches apart. Lightly press down on each ball to form a disc (it should be 1/2- inch thick or so).
Bake for 13 minutes.
To Sip: Rich and Creamy Holiday 'Nog
Cashews and coconut milk blend up rich and creamy with a touch of spice to create this dairy-free, egg-free holiday nog.
Prep time: 15 minutes
Yield: 1-2 servings
Ingredients
½ c. raw cashews (available at large grocery stores and natural foods markets)
1 ½ c. unsweetened almond milk
1 c. canned, full-fat coconut milk
4 to 6 medjool dates, pitted (large, sticky dates)
1 tsp. vanilla extract
1 tsp. rum extract
¼ tsp ground cinnamon
¼ tsp. ground nutmeg
Pinch of sea salt
Directions
Place cashews in a small pot and cover with water. Bring up to a boil. Turn off the heat, put a lid on the pot, and allow to sit for 5+minutes. Drain.
Pour the soaked cashews, almond and coconut milks, dates, vanilla, cinnamon, nutmeg, and salt into a high-speed blender and blend until creamy.
Serve cold.
Next on industry insights.
Interested in learning more?
Let's talk about how Premise Health can work for you.
Get in Touch